We are incredibly proud of our team! Professionals that truly CARE about their customers make all of the difference. Come on in and say hello!
Management
Dealer Principle
Brandon Miller
Does your DP destroy big motors, clutches, and transmissions? This guy does! He also runs the best H-D dealership in Central California. Well versed in all things Harley from a young age, Brandon is our go-to guy on a day to day basis.
General Manager
Joe Lillibridge
Joe has been with us from the beginning. He knows the history of the shop, the brand, and bikes like the back of his hand. And if you have questions about insuring your bike, Joe is your guy! Remember, you might be cool, but does your GM play Cribbage? Yeah...didn't think so!
Sales
Finance
Business manager / Consigliere
Kenny Burrows
Kenny comes to us with a wealth of knowledge on vehicle financing, and he will make your experience quick and painless!
MotorClothes and General Merchandise
Motorclothes sales / Social Commentary
Samantha Lillibridge
Sam has a never ending knowledge of Motor clothes and accessories, AND she will be happy to provide you with a fresh pun or some random literary references. Just ask for assistance!
Motorclothes and General Merchandise Manager / Semi-Pro iPhone photographer
Nikki Jimenez
Nikki has many years of sales and merchandising experience, and would love to help you get outfitted in the largest Harley-Davidson Motorclothes and Accessories department in the valley! In her free time, she does semi-professional selfies. Feel free to ask for tips!
Motorclothes Sales / Carnival Game Champion
Joscelyn Diaz
Joscelyn is a Motorclothes and General Merchandise pro. A newer addition to the team, Joscelyn used to make her money hustling people at carnival games. She actually CAN make that impossible basketball shot into a bent rim!
Service
Parts
Parts Jedi, Dance Instructor
E-JAY
E-Jay loves parts They are his life. He reads parts book constantly, usually only stopping when it's time to teach a samba or waltz, This kid has moves!
Parts, Special Orders, Yoga Instructor
Bobby Swift
Bobby has been with us since the beginning. He knows parts and upgrades like no other, has PERFECT hair, and can sing like an angel! Rumor has it that he shot him a bear, when he was only three! Trust him to get your Harley to the next level!
Parts manager / Hollywood stunt double / Karaoke Killer
Herm Smith
Need a part for your Harley-Davidson? Chances are, Herm knows the part number by memory! Part of the team for nearly 20 years, Herm is the "go to" guy for parts and accessories, and runs our Parts Department like a well-oiled machine. In his spare time, Herm sings and does stunt double work for Ice Cube. Give this guy a microphone at karaoke night and stand back! We're sure he'll get a call to leave us for the recording industry someday soon.
Marketing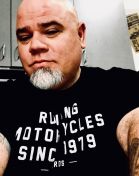 Marketing Manager
Lou Standifer
Lou has been a customer for a loooong time, so when a chance opened up to join the team, he did what any young boy filled with hopes and aspiration would do; he slept in the doorway until we hired him. Weary of a career as a gator wrestler and "carnie" for Butler Amusements, he is happy to be here! Lou is committed to your positive experience at H-D Fresno, and prides himself on great events and a grassroots biker attitude. Literally raised around Harleys, he wants you to be a part of our family!
IT
Tech Support / Parts & Accessories / I.T. Wizard
Danny
"J.D." knows EVERYTHING! From Harley parts to email servers, he's got us covered. He also hopes to be cast as the male lead in a Novella at some point.
---
At times we are on the look out for individuals to join us who share our passion and commitment. If this is you and you are interested in working with us, please get in touch